A new generation of fine-grade porcelain gives today's porcelain crowns the astonishing look of real teeth.
Porcelain crowns can restore a single damaged tooth back to its original form and function. These restorations are cemented onto the teeth and are referred to as "fixed" dentistry rather than using a removable appliance or partial denture.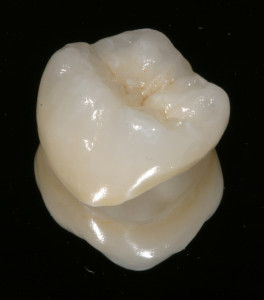 While tooth crowns have been around for many decades, a new generation of fine-grade porcelain gives today's porcelain crowns the astonishing look of real teeth. Mimicking nature's pearlescent glow and translucency, these crowns are difficult to distinguish next to their natural-born neighbors. Also, newer, stronger materials eliminate the need for metal under layers that cast an unsightly dark shadow under the gum line. (Some older crowns have this appearance and are often replaced to achieve a more esthetic result.)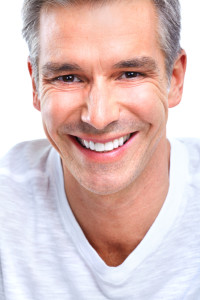 The newer techniques in fashioning crowns also allow crowns to fit seamlessly into the bite. Art Dentistry Maadi has a team of highly trained and artistic cosmetic dentists who are thrilled to give you the smile you have always dreamed about!
What is a dental crown and who needs it?
A dental crown is an exact porcelain replica of the natural tooth it is covering. The new porcelain cover preserves and protects the remaining shell of the tooth. The crown covers the entire visible surface of the tooth, leaving it strong and durable. The crown serves as the tooth's new outer surface.
Age, grinding teeth, a misaligned bite, large fillings and tooth decay all cause teeth to wear, crack, or break resulting in the need for a crown. In other cases, crowns replace missing teeth. These crowns are anchored to the teeth on either side, with a "bridge" section spanning the space and connecting the two crowns.
"We use crowns to correct a variety of smile concerns, from tooth sensitivity in weak teeth to creating the look of a more balanced, prettier smile. Crowns are smile-makers, resulting in whiter, prettier teeth."
Dr. Islam Shalash
Here's how porcelain crowns are placed:
1
At the first appointment, our cosmetic dentist reshapes the tooth structure and repairs any defects to prepare it to receive the new crown.
2
The dentist makes an "impression" of the tooth that needs a crown.
3
The impression is sent to the dental lab where the crown is made.
4
Patients usually leave the office with a specially fashioned crown that already looks a lot like the permanent crown. This gives the dentist and patient a wonderful chance to talk about plans for the color and shape of the permanent crown.
5
When the permanent crown is ready, it is cemented to the tooth with special, long-lasting cement to give the patient a beautiful natural look that matches neighbouring teeth.
Feel free to click the image frame below to watch a simplified video explaining the crown placement procedure:
Frequently Asked Dental Crown Questions
Dr. Islam Shalash has been serving general and cosmetic dentistry patients in several countries for more than twelve years. Our dentists and experienced dental staff at Art Dentistry Maadi perform both general dentistry and cosmetic dentistry including Porcelain Crowns for patients throughout Maadi and Greater Cairo.
To learn more about porcelain crowns and whether or not this solution would work for you, contact Art Dentistry Maadi for Cosmetic Dentistry today to schedule your appointment.
IDEAL CANDIDATE:
Patients with worn or broken teeth, or that have large cavities, fillings and previous root canal treatments; also used to top a dental implant in missing-teeth cases.
PROCEDURE TIME:
Two visits spaced out over two weeks.
BENEFITS OF ALL-PORCELAIN CROWNS
Make your smile bright
Restore functionality
Look and feel like natural teeth